Run Rabbit Run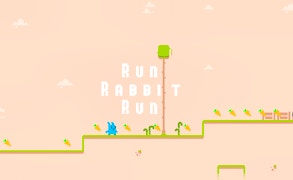 Run Rabbit Run
Description
Welcome to Run Rabbit Run, an exciting arcade game where you take on the role of a cute blue bunny. Your mission? Make it to the end of each level to reach the guards. With challenging obstacles and menacing monsters blocking your path, you'll need all your skills to join the bunny army and claim victory.
How to Play
Control your bunny using WASD keys for desktop or touch controls for mobile devices. The game includes a helpful double jump feature, perfect for overcoming taller obstacles or difficult gaps. Remember, your goal is to reach the guard at each level's end.
Tips and Tricks
Timing is crucial. Learn the patterns of enemies and obstacles to navigate around them effectively. Don't hesitate to make full use of the double jump feature. It can save you from dropping into pits or crashing into enemies.
Features
Retro Pixel Style: Enjoy graphically satisfying pixel aesthetics that pay homage to classic arcade games.
User-friendly Controls: Simple WASD or touch controls make it easy for anyone to play.
Variety of Levels: With various levels, there's always a new challenge waiting ahead.
Cute Characters: The adorable blue bunny adds a charming touch to this action-packed game.
What are the best online games?