Dyno Run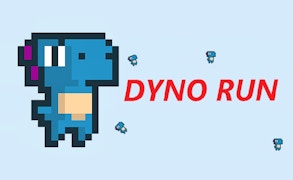 Dyno Run
Description
In Dyno Run, you step into the shoes of a speedy dinosaur in this captivating and fast-paced arcade game. The gameplay revolves around guiding your dinosaur across various landscapes, leaping over obstacles, and racing against time to reach the finish line. The graphics are appealing and the controls are smooth, ensuring an entertaining gaming experience.
How to Play
This game is easy to play but hard to master. Use your keyboard's arrow keys to control the movement of the dinosaur - up arrow to jump over obstacles and left/right arrows to run. The speed of the dinosaur increases as you progress, which makes it essential for you to time your jumps correctly.
Tips and Tricks
Don't rush! Take your time by taking smaller leaps when possible since big jumps can be risky. Keep an eye out for power-ups which could offer a speed boost or other advantages. Most importantly, learn the obstacle patterns as they often repeat.
Features
A compelling arcade gameplay that tests your reflexes and precision.
User-friendly controls with just the arrow keys needed for navigation.
A variety of landscapes offering diverse experiences and challenges.
An array of power-ups that can give you an edge in the game.
Slick graphics for a visually appealing gaming experience.
What are the best online games?