Rugby Rush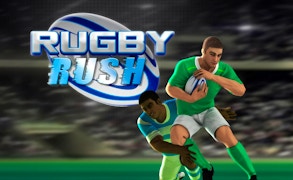 Rugby Rush
If you're a fan of ball games and football games, then buckle up because the adrenaline rush is about to go through the roof with Rugby Rush. Amidst the myriad of HTML5 Sport Games, this game stands tall as a phoenix rising from the ashes, providing unparalleled thrill and excitement.
With Rugby Rush, you're not just playing a game; you're living every moment on the pitch. It's like you've laced up your boots, feeling the weight of the ball in your hands as you weave through defenders on your way to score that winning try. This is no ordinary run-of-the-mill running game; it's an experience that will test your strategic planning and quick decision-making skills to their limits.
In a world where sports gaming has become almost monotonous, Rugby Rush offers a fresh breeze with innovative gameplay mechanics. The immersive experiences are further boosted by power-ups and bonuses that make you stronger and help you garner more points. You won't find such depth and intricacy in any other football or running game.
Rugby Rush also scores major points in terms of graphics and its intuitive controls adding an extra cherry on top of this scrumptious treat. It's almost like testing your agility in real life skill games.
For gamers who are always seeking new challenges, Rugby Rush delivers an intoxicating mix of strategy, skill, speed, and pure football madness. Step into the arena if you think you've got what it takes to dominate this game.
In conclusion, Rugby Rush takes hold of the traditional gaming norms and tosses them out of the window to curate an exhilarating package that has something for everyone. Experience today the electrifying world of Rugby Rush - it will change how you perceive ball games forever.
What are the best online games?