Route Digger 2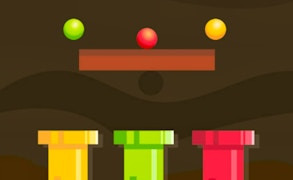 Route Digger 2
Unearth the joy of innovation and skill within the enchanting world of Route Digger 2, a riveting addition to the mounting pantheon of mining games. This game combines the allure of ball games with the mental stimulation commonly tied to hardened Skill Games into one cohesive package that's guaranteed to offer hours of captivating gameplay.
In this intriguing puzzle game, you'll be greeted by a colorful ball resting on the surface of a beautifully rendered earth environment. But it's beneath this seemingly serene surface that the true magic lies. Resting underground are special wells painted in diverse hues, each awaiting design and excavation of a path leading towards it.
Your task is noble yet challenging - make the ball fall into its matching coloured well. But here's where it gets interesting. You have to sculpt out a tunnel, a labyrinthine maze that only you can devise, using nothing more than your mouse! As your hand guides your mouse, your mind will simultaneously be running complex schemas, anticipating gravity's pull and plotting out best points of entry and exit.
You become an architect in a world dictated by colour and prowess. A successful drop means elation and points added onto your tally. Each fall is an achievement, each point gained is a testament to your dexterity! It's not just another game; it's an exciting test of finesse and strategy nestled within the fun realm of arcade gaming.
Acknowledge your calling as an underground path designer in this innovative puzzle arcade game. Pick up your virtual shovel and carve out paths most puzzling in Route Digger 2. The underground well is waiting for its colorful counterpart. Have fun!
What are the best online games?