Rotative Pipes Puzzle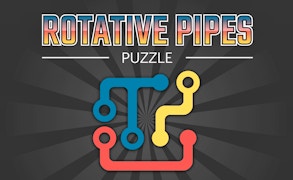 Rotative Pipes Puzzle
Description
In Rotative Pipes Puzzle, you find yourself in a world containing 70 levels of interconnected tile puzzles. Your task is to rotate the tiles in such a way that they all link together. But don't be deceived by the game's simplicity, as each level presents a unique challenge that's sure to captivate your mind.
How to play
Your interaction with the game is primarily through touching tiles to rotate them. The key objective is to form a continuous line interconnecting all tiles. Levels get progressively harder, testing your puzzle-solving skills and forcing you to think multiple steps ahead. Progress awaits those who can master the art of tile rotation!
Tips and Tricks
Start by connecting the isolated tiles first. This will help create a map of the puzzle in your mind and ease the path towards solution. Also, remember that patience is vital; rushing solutions might lead to a tangled mess instead of connected pipes!
Features
70 engaging levels: Offers hours of addictive gameplay and increasing difficulty for lasting fun.
Pure puzzle mechanics: No distracting elements, just pure concentration on the task at hand.
Simplistic design: Easy-to-understand visuals make for an intuitive gaming experience.
What are the best online games?