Rope Rescue Puzzle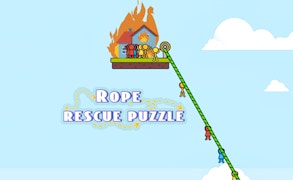 Rope Rescue Puzzle
Description
Rope Rescue Puzzle is a captivating adventure game that fuses strategy, action, and puzzle elements. Your mission? To save everyone from a raging fire using only a rope. The gameplay revolves around intricate levels that test your problem-solving skills and creativity. Layers of complexity are steadily introduced in the form of obstacles, which give an edge to this easy game.
How to play
Using the drag function of your mouse or touch screen, navigate the rope around obstacles to create an escape route from the fire. Each level forces you to devise unique strategies in order to succeed. The goal is simple yet challenging - ensure all individuals are saved by your rope strategy before the blaze engulfs them.
Tips and Tricks
Patience is your ally in Rope Rescue Puzzle. Plan before you drag your rope, examine the arrangement of obstacles and consider different strategies for evacuation. Remember, time is critical as the fire can rapidly spread.
Features
Strategic puzzle-based gameplay with increasing complexity.
Action-packed rescue missions in a thrilling adventure setup.
Creative level design that tests problem-solving skills.
Crisp graphics and immersive sound effects for an engaging gaming experience.
A progress-based system that rewards successful rescue efforts.
What are the best online games?
Tags