Ronni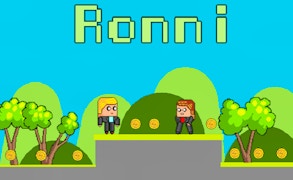 Ronni
Description
In Ronni, you enter a dynamic 2D world filled with challenging traps and cunning enemies. This arcade platformer tasks you with an exciting mission - to gather all coins in each level and then make your way to the Exit door. Eight levels of increasing difficulty await, each brimming with dangerous spikes, spinning saw blades, and relentless foes.
How to play
To control Ronni, use the "WASD" or "Arrow" keys. Push "W" or the "Up" arrow key for jumping and press it again for a double jump. Navigating through the treacherous terrains requires skill, but finding and collecting all coins is key to progressing further. Each level's end point is marked by an Exit door.
Tips and Tricks
Be mindful of timing your jumps accurately with double jump to avoid deadly obstacles. Strategically use your double jump ability to reach high platforms and collect hidden coins. Also, remember to keep moving as staying in one place can attract the enemies.
Features
Gripping 2D platformer gameplay with an emphasis on skill.
Eight levels of diverse challenges and increasing difficulty.
Potent enemies and deadly traps including spikes and saw blades.
The strategic element involved in collecting coins.
Dual control options ("WASD" or "Arrow" keys).
What are the best online games?