Rolling Sky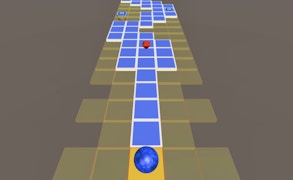 Rolling Sky
Prepare to be captivated by the thrilling world of Rolling Sky, one of the most exhilarating running games that will have you tightly gripped on the edge of your seat! As a mesmerizing blend of running games and ball games, it combines the thrill of speed with the skillful art of control, offering a unique gaming experience that will have your adrenaline soaring into overdrive.
You'll find yourself commanding a nimble, unstoppable ball as it journey's through an endless road suspended in the azure heavens. Beware! The skies are not as serene as they seem. Lurking amidst the ethereal beauty are various traps ready to end your aerial escapade at the slightest misstep.
Nail-biting moments await as you deftly avoid tumbling into oblivion while maintaining a steadfast journey forward. It's not all chaos and danger though; there are glimmering diamonds scattered along the way waiting to be collected. The balance between risk and reward is brilliantly orchestrated in Rolling Sky.
The palpable pressure to keep the momentum going and dodging obstacles seamlessly marries with the addictive satisfaction of collecting diamonds. The compelling gameplay dynamics makes this game an exciting candidate for fans of both running games and ball games.
Rolling Sky's appeal lies not just in its fast-paced action but also in its simplicity. A game that's easy to understand but difficult to master, it presents just the right kind of challenge for those seeking an adrenaline-fueled gaming experience.
In conclusion, if you're seeking a brilliant blend between speed and strategy, or if you have an inclination towards running games or ball games, then Rolling Sky's unique combination will fulfill that void perfectly. Strap in for an exhilarating journey through the sky with this absolutely stunning gaming experience!
What are the best online games?
Tags