Rolling Donut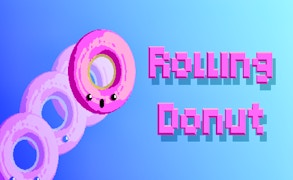 Rolling Donut
Description
In Rolling Donut, you play as a delightful doughy hero battling against a vengeful horde of carnivorous dentures! Your objective is to skillfully maneuver your donut around them or leap and crush these chattering foes. This captivating game delivers a fun, action-packed experience filled with suspense and challenges.
How to Play
The game controls are pretty straightforward. You can navigate your donut around by dragging it across the screen. To jump and crush dentures, just tap the screen. The primary aim is to dodge or destroy approaching dentures while racking up as many points as possible for every crushed enemy!
Tips and Tricks
To maximize your score, you must master the timing of the jumps. Avoid early jumps as they can lead to missed opportunities to crush dentures and earn points. Also, stay alert for sudden waves of dentures that can quickly overwhelm if not dealt with promptly.
Features
A hyper-casual arcade game with easy controls for all ages.
Addictive gameplay mechanics that keep players wanting more.
An amusing theme pitting a rolling donut against carnivorous dentures!
Action-packed challenges that test your agility and reaction skills.
What are the best online games?