Robot Assembly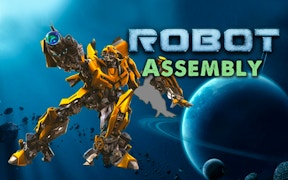 Robot Assembly
Envision yourself as the unsung hero of the digital battlefield - the mechanic - tasked with the crucial responsibility of piecing together these Titans of technology in a game like no other. Robot Assembly, a blend of kids entertainment and mind-bending puzzle gameplay, is more than just another game in the crowded sphere of robot games. This game breaks free from conventional boundaries and embarks on a unique adventure filled with challenges, suspense, and excitement.
In the tumultuous world of Robot Assembly, you are thrown into an aftermath of epic battles where your beloved transformers lie wrecked. These mechanical marvels are in dire need of repair, upgrades, and most importantly, resurrection. As you delve deeper into this richly detailed environment, you will find yourself working against time to assemble broken parts and restore these magnificent robots to their former glory.
This is not just about matching similar pieces together. No! It's an intricate process that stretches your cognitive capabilities to their limits. The gameplay mechanics are designed in such a way that they challenge young minds, foster their problem-solving skills, and instill in them a sense of achievement. Don't underestimate this game because it is labeled as one for kids. This puzzle-based game has enough depth and complexity to keep adults glued to their screens too!
With its engaging gameplay and stunning visuals, Robot Assembly stands out amongst other robot games for kids. It's simple enough for young players to grasp yet complex enough to stimulate more seasoned gamers. So gear up! The world needs your skills, mechanic! The titanic task of restoring life to these mechanical giants awaits you!
What are the best online games?
TAGS