Rich Run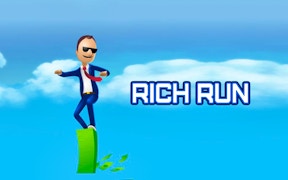 Rich Run
Step into the vibrant, thrilling universe of Rich Run, a gold standard in the world of running games that effortlessly blends elements of Hyper Casual Games, money games, and fun games, to deliver an experience that is nothing short of phenomenal.
The crowning glory of Rich Run is its simplicity. Perfectly tailored for those who appreciate casual gaming, Rich Run presents a minimalist, intuitive interface. As a result, you can orchestrate your movements with ease and precision simply by sliding your fingers across your screen. The game's straightforward controls are not limited to a certain subset of players, as it is designed so everyone can master it without difficulty.
Apart from its accessibility, another major drawcard is the sheer variety and challenges on offer. Prepare yourself for an exciting parkour challenge like no other! The track will keep you on your toes - literally and figuratively - as it tests your agility with a smorgasbord of hurdles. It is riddled with traps and obstacles that require quick thinking and nimble maneuvering to evade. This will engage players' cognitive agility and reaction timing making the game appealing to those seeking both fun games and some mental exercise.
Combine this thrilling aspect with the prospect of collecting coins throughout your run - hence manifesting elements seen in money games - and you've got yourself an addictive concoction guaranteed to have you hooked for hours on end. Earn rewards as you swivel around obstacles, turning excitement into palpable gains.
In conclusion, Rich Run triumphs as a classic example of running games done right; an exquisite fusion of the whimsical world of Hyper Casual Games with the adrenaline-pumping excitement inherent in fun games and money games. Join in on this wonderful experience - challenge awaits at every corner.
What are the best online games?