Rhino Rush Stampede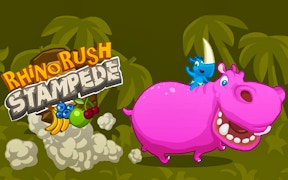 Rhino Rush Stampede
Strap in for a high-octane, adrenaline-fueled ride because Rhino Rush Stampede is stampeding its way into the must-play list of addictive arcade running games! This game is the perfect amalgamation of adrenaline-pumping action, captivating visuals, and rewarding gameplay that keeps you hooked for hours.
One of the many animal games to grace the gaming world, Rhino Rush Stampede takes it to another level with its unique concept and incredible graphics. You play as a little blue rhino hell-bent on collecting as much fruit as possible while charging headfirst into a variety of vibrant and dynamic landscapes.
But beware, this is not just your run-of-the-mill fruit collection game! It's packed full of twists and turns that will have you on the edge of your seat. Watch out for poachers looking to ruin your day and obstacles ready to halt your unstoppable charge!
This maddeningly addictive running game fuses the thrill of fun games with an exciting storyline. The controls are easily navigated, ensuring that even first-time gamers can join in on the fun without any delay.
The captivating ambiance coupled with challenging gameplay make Rhino Rush Stampede one of the most engaging Addictive Games. Each level brims with excitement, keeping players entertained while traversing through dangerous terrains fraught with peril at every turn.
In conclusion, Rhino Rush Stampede stands out among other animal games, delivering exhilarating gameplay that never feels repetitive or stale. If you're seeking a fast-paced arcade game that's both fun and challenging, give this rampaging rhino a run for his fruits!
What are the best online games?