Reversi Mania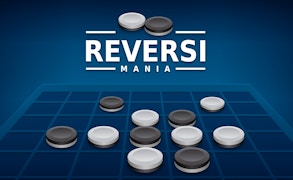 Reversi Mania
Description
Sink your teeth into the rich strategy game of Reversi Mania. This twist on traditional board games invites you to shift your thinking with double-sided stones and outmaneuver the competition. Deceptively simple yet complex, Reversi Mania demands players to plan several moves ahead. Offering an intense player vs player mode, it provides the perfect platform to hone your strategic prowess.
How to Play
To play, choose a stone and place it on the board with your color facing up. The goal is to sandwich opponent's stones between yours, flipping them to display your color. Remember, every move impacts future possibilities and your ability to conquer the game board. You can also enjoy multiplayer mode and challenge friends for more fun.
Tips and Tricks
Plan ahead and consider all potential outcomes! Aim for corners and edges initially as these spaces are less likely to be flanked by opponent's stones. Leverage lookahead strategy, where one can bait opponents into making moves advantageous for yourself in subsequent turns.
Features
Single-player and Multiplayer Modes: Test your strategic skills against AI or invite friends for a challenging match-up.
In-depth Strategy Game: While easy to understand, mastering Reversi requires careful planning and clever tactics.
Inspiring Gaming Environment: Enjoy a visually appealing interface that enhances game immersion.
What are the best online games?