Reptolia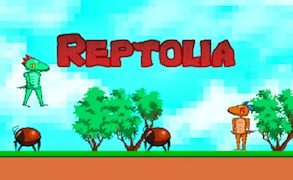 Reptolia
Description
In the thrilling adventure of Reptolia, you must navigate through perilous levels collecting colossal insects. This 2D platformer escalates in complexity and danger as you progress. Beware - your path is fraught with adversaries, deadly ground saws, menacing spikes, and lethal fire traps. Your ultimate goal? Reach the safe haven of the cave at each level's end.
How to Play
Maneuver your character using either "WASD" or "Arrow" keys. For those perilous leaps over deadly obstacles, you can execute a double jump by pressing "W" or the "Up" arrow key twice in quick succession. Be vigilant! Your survival depends on skillful navigation and timely jumps to reach the safety of the cave.
Tips and Tricks
Mastering the double jump is key to overcoming many of Reptolia's challenges. Staying alert and planning your moves ahead can keep you safe from sudden dangers. Remember, the larger bugs are worth more points - try to grab these whenever possible!
Features
Vivid 2D graphics: Embark on a colorful adventure filled with gigantic bugs, treacherous traps, and challenging enemies.
Increasing difficulty: As you progress through each level, obstacles become more challenging – testing your skills to their very limits.
Dynamic controls: Quick reflexes and adept handling of controls can be your greatest allies in this nail-biting journey.
What are the best online games?