Red Impostor and Blue Impostor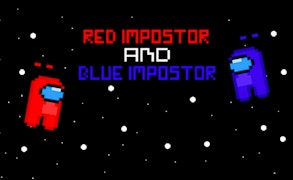 Red Impostor and Blue Impostor
Embark on a thrilling journey with the Red Impostor and Blue Impostor - a captivating entrant in the realm of pixel games. This high-paced adventure guarantees heart-pounding excitement as you navigate your way through its 15 remarkable episodes.
The premise is simple yet compelling - you step into the shoes of the red and blue impostor, racing against time and rising waters to complete each level. With its dynamic 2-player mode, it presents an unrivaled opportunity to enjoy some electrifying gameplay with your buddy. A testament to the unparalleled joy of 2 player games.
Framed in beautiful pixel art graphics, Red Impostor and Blue Impostor transports you to an atmospheric world that's bursting at the seams with obstacles and surprises. The rising water adds an exhilarating edge to your escapades, pushing you to move faster and strategize better.
Every episode is meticulously crafted to keep you at the edge of your seat, blending elements of puzzle-solving with split-second decision making. The constant threat of imminent danger instills a sense of urgency that drives each play session forward with a relentless energy.
In conclusion, Red Impostor and Blue Impostor offers a unique blend of fun-filled chaos and strategic gameplay that will appeal to fans of both adventure and pixel games. Its fluid mechanics, coupled with an intriguing storyline, make for an addictive play that's hard to put down.
Whether you're a veteran gamer in quest for a new challenge or looking for some quality entertainment to share with a friend, this title is set to notch up your gaming experience by leaps and bounds.
What are the best online games?