Red and Green: Candy Forest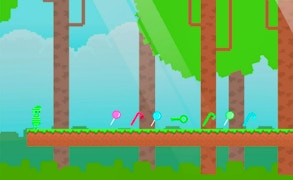 Red and Green: Candy Forest
Step into the delightful world of Red and Green: Candy Forest, an absolute gem in the realm of pixel games. This charismatic escapade draws you deep into a candy-infused fantasy land played through a mesmeric pixelated interface.
Unlike most conventional 2 player games, Red and Green gives you the option to play solo or share your adventure with a friend. Leverage your skills to navigate through enchanted forests, tackling obstacles, and scooping up as many delectable candies along the way. The gameplay's charm lies in its simplicity, coupled with an underpinning complexity that keeps you hooked, scoring high on the scale of addictive games.
The game is a seamless blend of challenges and engagement, standing out among other escape games. Levels steadily progress from easy to tricky, pushing you to think out-of-the-box while maintaining that engaging pixel art environment at each thrilling stage.
Red and Green: Candy Forest isn't just about escaping, it extends beyond that. It compels players to strategize their path through every level meticulously, ensuring no candy is left behind. The sweet allure of collecting candies not only offers points but adds a unique blend of fun and excitement to this whimsical journey.
To wrap it up, Red and Green: Candy Forest is more than just another name in the long list of pixel games; it's an experience crafted with love. Whether you're a fan of adventure-driven 2 player games or find joy in being lost and escaping from intricately designed mazes garnering points through your trek, this game is your sweet escape!
What are the best online games?