Red and Blue Red Forest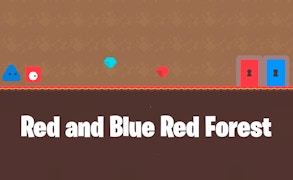 Red and Blue Red Forest
Description
Take on the ultimate test of survival in Red and Blue Red Forest, the third installment in the nerve-racking Red and Blue series. This pixelated adventure game propels you into a nefarious forest dubbed as 'Hell Forest'. The objective is straightforward yet challenging: survive against all odds. Riddled with treacherous elements, this game pushes your gaming skills to their absolute limits.
How to Play
This two-player game demands coordination with WASD keys for Player 1 and Arrow Keys for Player 2. Navigate through the forest, leap over obstacles, climb ledges, and avoid deadly traps using the elusive Double Jump feature. Remember, every move could make or break your survival chances in this thrillingly complex game.
Tips and Tricks
The key to survival is coordination. Make sure both players are in sync to navigate through obstacles effectively. Utilize the Double Jump feature wisely to reach higher grounds or dodge dangerous scenarios. Keep an eye out for hidden areas that might contain helpful items or secret escapes.
Features
Pixellated Graphics: Aesthetically pleasing retro-style visual design.
Multiplayer Mode: Enjoy the adrenaline rush with a friend.
Complex Gameplay: Offers challenging levels with intricate designs.
Diverse Challenges: Every level comes with a unique set of trials.
Mesmerizing Audio: Immersive sound effects that enhance your gaming experience.
What are the best online games?