Red and Blue Adventure 2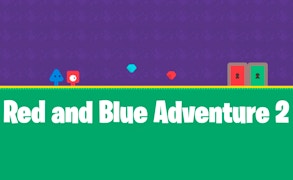 Red and Blue Adventure 2
Description
Step into the exciting world of Red and Blue Adventure 2, an enthralling sequel that brings fresh challenges and adventurous monsters. Spanning across 10 diverse levels, this game involves defeating enemies on your journey towards victory. The stakes are higher and the adventure awaits you!
How to play
To navigate this captivating game, use the WASD keys for Red character and the Arrow keys for Blue character. Collect sparkling diamonds through each level and make your way to the door to progress. Remember, a double jump feature is available to conquer those hard-to-reach places.
Tips and Tricks
Utilize your double jump to evade or fight enemies from a vantage point. Prioritize collecting diamonds, but keeping an eye out for lurking dangers. Effective use of both characters is the key to succeed in the Red and Blue Adventure 2.
Features
Dual Character Control: Simultaneously control two characters with different controls.
Variety of Levels: Navigate through 10 challenging levels filled with monsters and obstacles.
Coin collection: Collect diamonds strewn across each level for bonus points.
Double Jump: Overcome barriers with a unique double jump mechanism.
What are the best online games?