Real Flying Truck Simulator 3D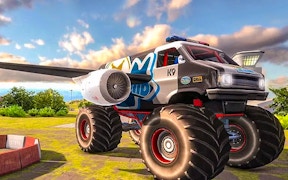 Real Flying Truck Simulator 3D
Rev your engines, gaming enthusiasts! We're about to shift gears with the awe-inspiring Real Flying Truck Simulator 3D, an exhilarating fusion of flying games and car games, set in a futuristic world that will have you on the edge of your seat.
This is no ordinary driving game - It's a gem from the creative minds at Game Tap that puts a new spin on your usual simulator games. Imagine cruising through the city skyline not behind the wheel of an airplane but a high-tech flying car. Yes, you heard it right—Real Flying Truck Simulator 3D is your golden ticket to breaking free from the constraints of gravity and exploring urban spaces in a way you've never done before in any other car game.
The game offers an immersive 3D environment that has been meticulously crafted to provide gamers with an unmatched visual spectacle. It's not just about crafting perfect landings on towering skyscrapers or agile skimming over twisting freeways; this game will challenge your reflexes and strategic thinking like never before. In essence, Real Flying Truck Simulator 3D takes the thrill of classic racing games and injects it with a hefty dose of Augmented Reality to create an unparalleled driving experience.
If you're tired of run-of-the-mill airplane games or conventional driving games, then this adrenaline-pumping truck simulator is just what you need. The future of gaming is here, and it comes in flying cars. So buckle up, rev those engines, and prepare yourself for the ride of your life with Real Flying Truck Simulator 3D!
What are the best online games?