Ravensworth High School Story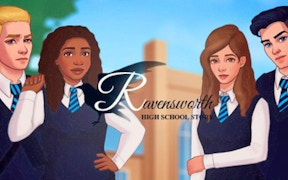 Ravensworth High School Story
Welcome to a world of glamour, excitement, and teenage emotions with Ravensworth High School Story, the hottest new addition in the Games for Girls and Princess Games genre. Ravensworth High School Story is your ticket to a whirlwind journey of friendship, challenges, romance, and personal growth!
As Liz, experience your first day at the elite Ravensworth Academy - a sanctuary for the country's brightest. Navigate through an intricate maze of high school life where every decision affects your story. This game brilliantly combines a highly engaging linear and non-linear storyline, ensuring your choices will shape Liz's experiences in this lavish kingdom of academia.
The game perfectly captures the essence of high school years. From forging friendships, battling the highs and lows of adolescence to encountering love triangles - Ravensworth High School Story is an adventurous ride that keeps players hooked for hours.
The graphics illustrate high-school-themed visuals, brilliantly crafted to resonate with its young audience. Delightfully colorful designs, coupled with relatable characters offer an immersive gaming experience that is both enchanting and captivating.
Your goal? Collect as many stars, hearts, and coins as you can! Accumulate enough points & leverage them to unlock special features or invest in character progression. As a result, there's never a dull moment with continuous objectives keeping you engrossed in the gripping narrative.
All in all, Ravensworth High School Story embodies the spirit of high-school life through its vibrant graphics and engaging gameplay. Tagged under Games for Girls & Princess Games, this visual novel stands as a paragon in teen-focused gaming content.
In conclusion: step into Liz's shoes; face challenges head-on; make friends or foes; create the high school story you've always dreamed!
What are the best online games?