Rapunzel Tower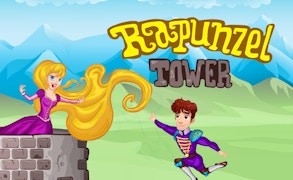 Rapunzel Tower
Description
In Rapunzel Tower, delve into the magical yet perilous world, where Rapunzel is trapped in a high tower by an evil witch. As the chivalrous prince, your mission is to scale the enormous tower, bracing against all odds to rescue her. Beware of the witch's loyal minions and poisonous ivy that threaten to knock you off. As you ascend, collect valuable hairbrushes that unlock useful upgrades to ease your daring journey.
How to play
To play Rapunzel Tower, use your arrow or swipe controls to jump from one windowsill or canopy to another while avoiding obstacles. The goal is reaching the top of the tower whilst accumulating as many hairbrushes as possible for upgrades. You must also dodge harmful attacks from the witch's servants and avoid coming into contact with poisonous ivy.
Tips and Tricks
Timing is key when it comes to jumping between platforms; anticipate obstacles and evade them at just the right moment. Also, strive to collect every possible hairbrush as these are crucial for upgrading abilities, which will make your ascent more manageable.
Features
A thrilling adventure climbing an enormous tower filled with challenges.
Diverse enemies and obstacles making gameplay dynamic and engaging.
Possibility of significant upgrades through collecting hairbrushes.
Simple yet addictive gameplay suitable for all ages.
A captivating storyline based on a renowned fairytale.
What are the best online games?