Rainbow Friends Among Survival Adventures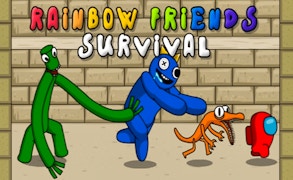 Rainbow Friends Among Survival Adventures
Embarking on a journey into the cosmos of pixelated fun, Rainbow Friends Among Survival Adventures blends the charm of arcade gaming with the thrilling elements of escape-games and skill-games.
Starting your adventure is as simple as clicking the "Play" button on the very inviting welcome screen. Your quest, across 20 entrancing levels, is to collect coins scattered in a labyrinth maze while evading whimsical creatures and sharp buzz saws. It gives a sense of playing life-size Pac-man but with a flashy wardrobe akin to the crew members in 'Among Us'.
The controls are as smooth as silk on desktops, with options of using either arrow keys or W, A, S, D keys for navigation. While touchscreen devices are supported, let your fingers do the walking across your keyboard for an optimal experience.
There's an adrenaline rush when you collect the spinning coins, adding a twist to this mesmerizing game. Once you've claimed all shiny treasures, sprint towards a blinking trap door to conquer the level. But beware! If it's not blinking black, it's time for a restart.
A distinctive element that makes this game stand out among other arcade games, is its detailed survival mechanism. Dodging colorful creatures that employ different movement strategies enhances gameplay excitement exponentially. Likewise, outsmarting relentless buzz saws will test your reflexes to no end.
Catered towards lovers of runner and coin collecting games, Rainbow Friends Among Survival Adventures provides clean entertainment devoid of mature content. So gear up in your red spacesuit and embark on this survival quest in the throbbing heart of vibrant mazes.
What are the best online games?
Tags