Raid Heroes: Total War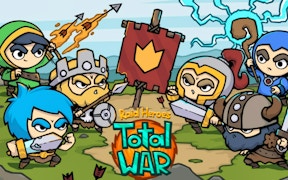 Raid Heroes: Total War
Welcome to the thrilling world of Raid Heroes: Total War, a captivating blend of RPG and action that submerges you into an alluring narrative of knights, monsters, and epic wars. Venture into this grand adventure that supercharges the excitement of sword games and war games to a new zenith. This battle game truly encapsulates the thrill of clashing swords, archery duels, and heroic quests; making it a must-try for fans of knight games and monster games.
Delve into the breathtaking universe of Raid Heroes, where the kingdom is under assault from the nefarious Dark Lord's army. The stakes are high as players must rally their greatest heroes, creating a formidable squad to confront this looming threat. Not merely stopping at offering thrilling battles with other players in the PvP arena, Raid Heroes: Total War lets you establish, fortify and defend your own castle while simultaneously attacking rival castles!
The strategic depth in this game is engrossing for those who enjoy managing resources and enhancing their power through meticulously exploring, improving or reforging artifacts. It's an incredible mix of RPG elements with idle heroes gameplay mechanics which offers a unique touch to this battle game genre.
In Raid Heroes: Total War, prepare to be enthralled in forming alliances in clans for a total war experience that resonates on a larger scale than most knight games offer. Witness firsthand how your hero band clashes with other squads and emerges victorious! Don't just read about legendary hero wars; become part of one!
This free-to-play game has successfully combined elements from RPGs, idle heroes games, strategy games and auto-battle games to create a rich gaming experience that will leave you yearning for more battles. Perfectly suited for fans of sword games, archery games or war games in general, Raid Heroes: Total War transforms you into an army leader where your tactical skills can truly shine. A true gem among knight, monster battle games.
What are the best online games?