Rack'Em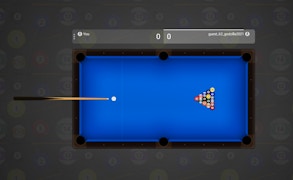 Rack'Em
If you're searching for a game that's both entertaining and competitive, then Rack'Em should be on top of your list. Rack'Em is a vibrant and thrilling online pool game that captures the precision and strategical essence of real-life pool.
The game falls within the category of pool games, ball games, and also gives an edging competition in 2 player games. Whether you're a fan of pool or not, Rack'Em's simplicity yet challenging gameplay will get you hooked in no time.
The aim is straightforward - defeat your online opponent or a friend. But don't be mistaken - it takes some strategic thinking to master the art of winning in this 8-ball style game!
Rack'em offers an immersive gaming environment with realistic physics, ensuring every shot feels as authentic as possible. The HD graphics add further depth to the game, making each turn at the table a joy. There's nothing quite like the satisfaction when you hear the crisp sound of your cue striking the ball, sending it ricocheting into the pocket.
For those seeking a bit of friendly competition or looking to hone their skills before hitting the real pool table, Rack'Em is a must-play. It faces you off with opponents worldwide, building up your competitive spirit and testing your ability to predict shot angles under pressure.
In conclusion, Rack'Em stands as an exciting prospect in the realm of online pool games. Its addicting gameplay coupled with seamless between friendly banter and intense rivalry makes this a gem among 2 player games. So grab that virtual cue stick, aim carefully, take your shot, and Rack'Em!
What are the best online games?