Push Block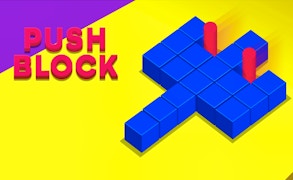 Push Block
Welcome to the world of arcade gaming, filled with thrilling twists and engaging turns. Today, we take a deep dive into an ingenious addition to the realm of block games - titled 'Push Block'. This review aims to provide a comprehensive look at this hyper-casual, skill-based game that has stormed onto the gaming scene, capturing the attention of gamers worldwide.
Push Block is more than just another entrant in the block games category. It crafts a unique gameplay experience requiring sharp attention and deftness, categorized aptly under Skill Games. The concept is simple yet captivating - use your finger to push all blocks towards their designated locations. But beware! The path is littered with obstacles.
The magic of Push Block lies in its ability to merge simplicity with complexity. The straightforward controls make it accessible for anyone to pick up and play, while the strategic approach required ensures that even veteran Skill Games players are kept on their toes. Each level presents a new challenge, forcing gamers to rethink their strategies and adapt on the go.
The engrossing nature of Hyper Casual Games, combined with mental stimulation typically associated with Skill Games, makes Push Block a must-play for anyone captivated by arcade-style block games. Its minimalist design complements its intricate gameplay, creating an immersive environment that keeps players hooked for hours on end.
In conclusion, it's not often you encounter a game like Push Block. With its skill-testing mechanics and irresistible gameplay loop, it's bound to be your next go-to title in your arcade gaming library. If you are inclined towards block games or hyper-casual games which require skillful manipulation - give Push Block a try!
What are the best online games?