Pumpkin Rider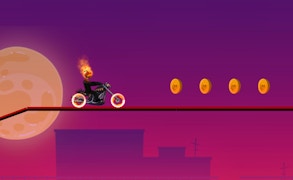 Pumpkin Rider
Unleash your inner speed demon with our latest find amongst driving games, the enigmatic, adrenaline-pulsing Pumpkin Rider. This motorcycling marvel stands out in a sea of motorcycle games, with its artistically eerie Halloween setting that will send shivers down your spine even as you rev up for the next thrilling race.
As you would expect from top-tier dirt bike games, Pumpkin Rider is all about precision and grit. The devilish obstacle designs will have you completing exciting jumps and death-defying maneuvers, making each race a unique encounter. Every moment is an unpredictable thrill-ride, making it one of the most riveting dirt bike games we've played.
In Pumpkin Rider, you don't just race; you survive. Every level is wrapped up with deadly riddles of obstacles that test not only your driving skills but also your tactical acumen. The finish line isn't just a destination; it's a victory over the monstrous designs of this dazzlingly dark game environment.
A key strength lies in its intuitive controls; they're simple enough for a newbie to get the hang of quickly. However, mastering them to conquer the tracks? That's where your real challenge lies. The marked line gradually becomes an obsession, reaching it swiftly and efficiently turns every player into an avid rider.
What truly distinguishes this game from other monster games is how it blends its chilling aesthetic with the exhilarating world of dirt bike racing. It pulls no punches in presenting players with a daunting yet immensely rewarding challenge that keeps you coming back for more.
The bottom line? Get ready for some tire-screeching, pulse-pounding action on your journey to reach that marked line alive! Pumpkin Rider offers an unrivaled blend of horror and high-speed racing that will keep any driving game enthusiast on edge. Good luck!
What are the best online games?