Pum Mole Whack a Mole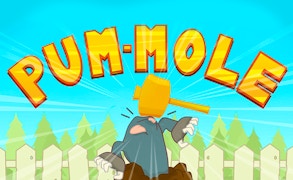 Pum Mole Whack a Mole
Description
Enter a world of fun with Pum Mole Whack a Mole, a delightful and engaging game that will keep you on your toes! This game brings the classic 'Whack-a-mole' concept to your screen, but with an enticing twist. Instead of moles, you'll be trying to whack popping creatures who are mischievously peeking out from their holes to rack up points!
How to play
To play, simply tap on the popping monsters as they emerge. Be quick though, as they won't stick around for long! The more monsters you successfully hit, the higher your score climbs. The game progresses in increasing levels of difficulty with faster and more elusive monsters.
Tips and Tricks
Remember, speed is crucial in Pum Mole Whack a Mole. Keep your eyes moving across the screen to spot monsters as soon as they appear. Also, practice makes perfect- the more you play, the quicker your reflexes get!
Features
Classic gameplay style: If you're a fan of old-school arcade games like 'Whack-a-mole', this game will be right up your alley.
Challenging Levels: With each level, the game gets more challenging, ensuring endless fun and excitement.
Friendly design: The colorful graphics and easy-to-understand gameplay make this game suitable for gamers of all ages.
What are the best online games?