Protect The Planet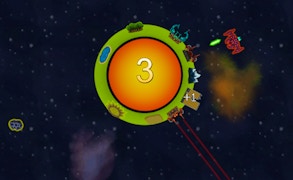 Protect The Planet
For lovers of flying games, battle games, and those who relish a true test of their talents, Skill Games introduces Protect The Planet: a high-octane adventure that sees players in an epic fight for survival! In the dynamic world of arcade gaming, Protect The Planet stands as a pinnacle with its fast paced gameplay combining elements of strategy and action.
The game transports you into a universe where your mission is nothing less than the preservation of your world. As the title suggests, you're thrown into space to literally Protect The Planet. What makes this game stand out in an array of countless flying games is its extraordinary blend of frenzied space battles with nuanced strategy, demanding both fleet-footed reactions and careful planning from players.
This isn't just another one from the hoard of traditional battle games. It doesn't just test your fighting ability but also puts your skills on trial. With every passing second, your planet's survival becomes more precarious and your decisions more critical. It's not just about blasting through enemies but also making tactical decisions to ensure long term survival. Commanding your spaceship through meteor showers and deadly alien fleets is daunting and thrilling in equal measures.
In summary, Protect The Planet is an exhilarating ride that boldly challenges its gamers' skills and strategic abilities, taking them on an interstellar journey they can't resist. Those with a penchant for fast-paced exhilaration in arcade gaming, coupled with cerebral tests of strategy are likely to find this game irresistible. So strap in warriors - our planet needs you; let the games begin!
What are the best online games?