Prison Escape Runner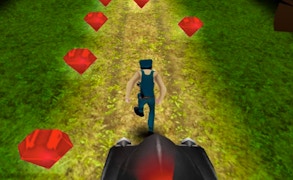 Prison Escape Runner
If adrenaline-pumping, heart-racing action is what you're after, then get ready to be thoroughly entertained by the exciting arcade running game, Prison Escape Runner. This exhilarating game keeps you on your toes as you attempt the ultimate gaolbreak, mastering the art of the endless runner in the process.
The premise is simple yet incredibly engaging. You find yourself trapped in a high-security prison with one goal in mind: escape. However, freedom doesn't come easy; as you dodge obstacles and avoid capture, you'll find yourself immersed in addictive gameplay that keeps you coming back for more.
The standout feature of Prison Escape Runner has to be its impressive 3D graphics. The dark and gritty prison environment is brought vividly to life, pulling you further into its thrilling universe. The attention to detail genuinely enhances the immersive quality of this arcade running game. Expect electrifying moments and stunning visual effects that make your escape attempts feel all too real.
Apart from its captivating storyline and remarkable graphics, Prison Escape Runner's gameplay offers a challenging experience that will test your speed and reflexes. You can't help but feel a surge of triumph every time you pass an obstacle or evade one of the many prison guards.
In conclusion, for fans of running games, Prison Escape Runner offers a roller-coaster ride brimming with suspense and action. It successfully merges stunning graphics with intense gameplay delivering sheer enjoyment right on your screen. Whether it's finding new routes for your great escape or competing against friends for high scores, there's always something exciting happening in this fantastic arcade genre release.
What are the best online games?
Tags