Princess Pet Studio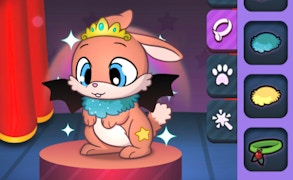 Princess Pet Studio
Get ready to step into a world where amusement and fashion collide in the heart of our superbly crafted game, Princess Pet Studio. This game is an absolute gem in the world of games for girls, integral in creating a safe and fun-filled environment for our aspiring young gamers. It also strikes a chord with animal lovers and styling enthusiasts, earning its spot as one of the most astounding games for kids.
Experience the thrill of being a pet stylist to royal pets! The moment you start playing, you can see that this isn't just among typical animal games. The animals here are royal pets, meant to be adorned and beautified, making it an innovative cross between fashion games and pet care.
The standout feature of this masterpiece is undoubtedly its 'dress up' component. As part of immersive and delightful dress up games, you transform your cute little pet into an elegant princess with a wardrobe brimming with fantastic outfits. From tiaras to bows, frocks to frills, there's something for everyone's aesthetic sense.
The gameplay is very user-friendly and straightforward, which makes Princess Pet Studio exciting yet easily manageable. Be it the vibrant graphics or the irresistible cuteness of princess pets waiting to be beautified - every aspect of this game keeps you engaged without coming off as overwhelming.
In conclusion, Princess Pet Studio wonderfully encapsulates the allure of fashion games, the charm of animal games, and adds a sprinkle of creativity that makes it one of the most captivating games for girls. If you're on the lookout for interactive gaming experiences that flawlessly blend enjoyment and learning, then don't miss out on this enchanting spectacle!
What are the best online games?