Princess Military Fashion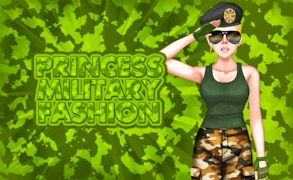 Princess Military Fashion
Description
In Princess Military Fashion, you have the powerful role of a stylist, making sure that our brave girl warriors maintain their style even on the battlefield. This game introduces a refreshing take on fashion, combining glamour with the military theme. Unleash your creativity with the wide array of options for shaped folds, pencil-skirts, comfy khaki jumpsuits, and much more!
How to play
Princess Military Fashion is easy and intuitive to play. Simply use your mouse to select and drag your desired outfit pieces onto your chosen character. Mix and match different styles to find the perfect military chic look. Progress in the game by unlocking more trendy pieces as your confidence in dressing up grows.
Tips and Tricks
To truly shine in Princess Military Fashion, don't be afraid to experiment! Play around with different combinations of outfits to discover unique looks. Remember, a true fashionista knows how to balance aesthetics with comfort, especially in a military setting!
Features
An interesting mix of feminine glamour and military-themed style.
A wide range of clothing choices, allowing for limitless combinations.
An opportunity to put your fashion instincts to the test.
A fun, engaging experience for any barbie or fashion enthusiast.
What are the best online games?