Princess Halloween Party Dress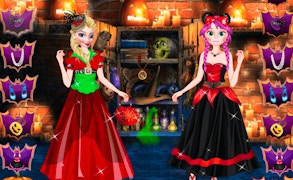 Princess Halloween Party Dress
If you're on the hunt for a perfect blend of frightful fun and fanciful fashion, "Princess Halloween Party Dress" is the game for your little ones to delve into this spooky season. This magical twist on the princess games genre is specifically tailored towards games for girls, offering a delightful gaming experience sure to keep them entertained and engaged.
Our beloved princesses have decided to take a thrilling leap into the world of the macabre. Instead of their usual sparkling gowns and royal regalia, they've decided to don some spine-chillingly adorable costumes in the spirit of Halloween. The innovative concept makes these dress up games truly stand out, providing an exciting change from the traditional princess attire we're so accustomed to seeing.
The gameplay encourages creativity and imaginative thinking as players can create unique Halloween looks ranging from cute witches, to little vampires and spooky ghosts. The intention is not simply to scare but to foster an appreciation for the aesthetic flair that comes with this haunting holiday. The intricate design and vibrant colors make each outfit feel like a mini work of art, making "Princess Halloween Party Dress" an amazing platform for showcasing your child's artistic side.
This game has successfully merged classic princess games with Halloween-themed fun, presenting a unique twist that will surely have players coming back for more. Every Halloween season will become a thrilling fashion challenge with our princesses, ensuring endless hours of fun and excitement. The impressively detailed outfits paired with a myriad of customization options prove that it's more than just a simple dress-up game; it's a journey into a world where style meets scary.
"Princess Halloween Party Dress" offers an immersive gaming experience that harmonizes festive holiday spirit with creative play. So whether you love fashion designing or you're simply looking forward to some great holiday-themed entertainment, this game delivers on all fronts while never losing touch with what makes princess games so enchanting – their ability to provide moments of sheer joy and wonderment.
What are the best online games?