Presidential Golf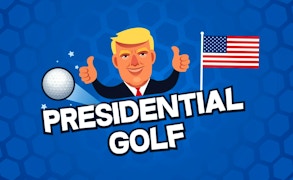 Presidential Golf
Welcome to the world of Presidential Golf, a standout gem among golf games and ball games genres. This fun game offers a refreshing spin to your usual digital golf experience, merging politics with sports in an incredibly entertaining way.
From the heart-stopping descent onto the course in a presidential helicopter to the heart-racing moments adjusting your swing and power, Presidential Golf is not just another game; it is an immersive, exhilarating, and often humorous experience. The added layer of political satire or parody adds a delightful twist that sets this game apart from other fun games.
You might be wondering about the gameplay itself. Well, it's everything you'd expect and more. Just like traditional golf games, the mechanics are built around precision and technique. But, what makes Presidential Golf unique is its blend of humor and challenge. You'll find yourself cracking up at funny dialogues delivered by POTUS himself while navigating through danger zones such as bunkers and water hazards.
The beauty of Presidential Golf lies in its bipartisan appeal. Whether you are a fan of Trump or not, this game transcends political alignments with its humor, charm, and well-designed gameplay mechanics. It's designed not just for those who enjoy ball games, but also those who appreciate humor rooted in contemporary issues.
In conclusion, if you're looking for a golf game that challenges your skills while tickling your funny bone, don't miss out on Presidential Golf. A reminder though- this is a satire/parody aimed at pure fun. Let's not take it too seriously!
What are the best online games?