Pregnant Rush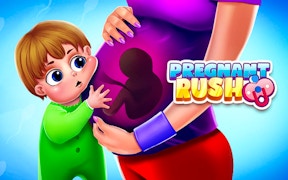 Pregnant Rush
Welcome to our latest review of the addictive prenatal-themed arcade game, Pregnant Rush. A hyper-casual runner full of unexpected features, fascination and fun that is sure to keep gamers hooked for hours. Tagged under baby-games, hyper-casual-games, and running-games, this eye-catching title serves up a unique gaming experience not common in the realm of arcade gaming.
Prepare to dash with delightful fervor in Pregnant Rush, where you are challenged to run as fast as you can! Collect points throughout an extensive variety of levels, harnessing your reflexes and timing skills. What sets this game apart is the inspired pregnancy theme. The objective? To gather enough points to progress through all 9 months of pregnancy and give birth to a child!
The creators have meticulously designed each level to represent each month of pregnancy in an entertaining, albeit quirky way. Each level is brimming with uniqueness, offering challenges that vary as widely as the symptoms during different trimesters!
Keeping users engaged are the vast range of skins available, allowing for customization and added personality to your runner character. This clever addition brings a personal touch to the game's already relatable concept.
Pregnant Rush has successfully blended elements from baby games into a high-speed running context – making it an unexpected gem in the world of arcade games. Whether you've dealt with pregnancy or just enjoy running games or hyper-casual games, Pregnant Rush is sure to entertain with its charming graphics, amusing themes and challenging gameplay!
In conclusion, Pregnant Rush stands out as a unique fun-filled entry into the world of arcade games. Its funny theme and colorful skins, coupled with its diverse level designs, make this game a stellar choice for those seeking a different kind of running game experience.
What are the best online games?