Pregnant Kitty Spa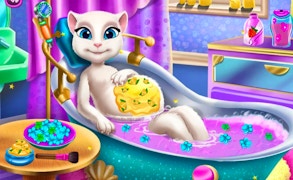 Pregnant Kitty Spa
Welcome to the enchanting world of Pregnant Kitty Spa, a delightful addition to the pantheon of games for girls, cat games, animal games, makeup games, and dress up games. This game is a charming infusion of feline fun and fashion which will undoubtedly captivate your whimsy.
The game revolves around a lovable pregnant kitty seeking relaxation and a bit of pampering. It's not just about taking care of an adorable cat; it's about providing her with the luxury she deserves during this special time in her life. The game boasts inventive spa treatments designed to make our expectant feline friend feel as comfortable as possible while boosting her charm.
Moving beyond ordinary cat games, Pregnant Kitty Spa also lets you explore your creative side with an array of exciting makeup options. From blush-ons to eyeshadows and lipsticks, the game presents myriad ways to make kitty look absolutely 'meowtastic'. This is where Pregnant Kitty Spa does a stellar job blending elements from typical makeup games with its unique narrative.
The celebration isn't over until kitty dons the perfect outfit. This is where aspects of dress-up games come into play. You are given a vast array of stylish maternity clothes and accessories for our furry friend that will leave you immersed in fashion fun whilst ensuring Kitty looks fabulous too!
Overall, Pregnant Kitty Spa goes beyond the conventional expectations from games for girls, uniting elements from cat games, animal games, makeup games, and dress-up games into a heart-warming package. So whether you're a fan of dressing up cute characters or simply love animals, this game is sure to provide countless hours of enjoyment!
What are the best online games?