Pregnant Dotted Girl Emergency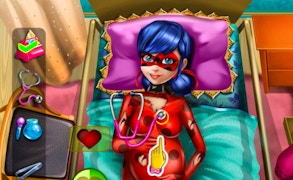 Pregnant Dotted Girl Emergency
If you're on the hunt for engaging Games for Girls, specifically those that ignite the imagination and foster a sense of responsibility, then the vivid world of Pregnant Dotted Girl Emergency is definitely one to explore. Falling under the umbrella of both baby games and operation games, this game offers a unique blend of adventure and education that will keep your child captivated.
In Pregnant Dotted Girl Emergency, your child steps into an important role in an emergency room environment, where they are tasked with taking care of a pregnant super-heroine known as Dotted Girl. Through bold and colorful animation, this game beautifully demonstrates the consequences Dotted Girl faces after her fight with a villain, showcasing how even heroes need help sometimes.
Going beyond traditional baby games, this interactive tale provides real-world medical information in a child-friendly format. Your budding doctor will learn about heartbeat monitoring and how fractures are identified via X-ray machines. Let's not forget about wound cleaning – setting it apart from other operation games.
The crux of Pregnant Dotted Girl Emergency is its application of knowledge through practical scenarios. It doesn't just facilitate learning; it encourages retention by making medical concepts fun! So, while your child is eagerly helping Dotted Girl recover, they are also unconsciously absorbing useful information about health and wellness - something most Games for Girls don't offer.
In conclusion, Pregnant Dotted Girl Emergency is more than just a game; it's an enjoyable learning platform that captures the essence of both baby games and operation games. With its attractive layout, easy-to-understand instructions, and meaningful gameplay, it's easy to see why this stands out among other Games for Girls!
What are the best online games?