Power Puzzle - Merge Numbers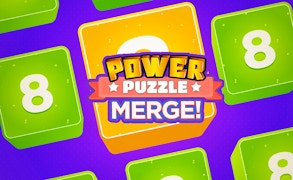 Power Puzzle - Merge Numbers
Description
Welcome to Power Puzzle : Merge Numbers, an enthralling block and number matching game that offers a delightful brain workout. This game is perfect for players of all ages. There are no set tasks or deadlines, play at your convenience and pace. The game comes with appealing graphics that catch the eye of both children and adults alike.
How to Play
The game may seem simple at first, but have no doubts, it will test your number merging skills to the core. The key focus is to merge identical numbers to create higher numbers. There are no time constraints so take your time, plan your moves and aim for the highest score. You'll also encounter various bonuses that help you in your gameplay.
Tips and Tricks
Always try to keep your high numbered blocks in one of the corners. This strategy allows you to maximize the merge opportunities without getting stuck. Take advantage of the game's unique bonuses which can significantly boost your score and assist in solving challenging puzzles.
Features
Variety of pre-set themes for an engaging gameplay experience.
Suitable for players of all age groups.
Several bonus boosts available during gameplay.
Night mode theme for a comfortable gaming session before bed.
What are the best online games?