Pou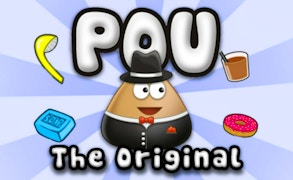 Pou
There was a time when small virtual pets were all the rage and now they've found new life in apps and web games like Pou. This is a colorful 2D game where you are taking care of an alien creature called Pou. Like all living things, Pou must be cared for so that they can live a long and healthy life with you while also growing independently. They're there also to serve as a virtual companions for those times when you need a little alien in your life. Show them tenderness and acre and they'll respond in kind.
About Pou
Sometimes you never learn about alien creatures beyond the fact that they seem to require a lot of the same things that earth animals and we ourselves require. This creature is just so joyful, trusting, and full of life which gives you plenty of options to spend time with them. You can play games with them in mini-games and outside if you so choose. If you want a more relaxing experience, you can spend time caring for the aliens as you dress them up in various clothes to make them more stylish. As they grow, they'll always look to you for care and joy.
How to Play
Pou is a 2D virtual pet game that is played using the mouse and keyboard. Different parts of the game will have different responses to the inputs.
Controls
Mouse Cursor - Navigate/Use Tools
Left Mouse Button - Select Icons/Tools
Arrow Keys - Control Pou in Games
As the new caretaker of Pou, your job is to make sure that your alien buddy stays happy and healthy. At the top of the screen, you can see the three main stats that contribute to their well-being: Hunger, Health, and Happiness. At the bottom, you can visit all the different areas that correspond to one of these stats. For all those screens, the available items appear as icons on the left and right sides of the screen.
For the Hunger stat, you need to click on the Fridge. This takes you to the kitchen where you can feed the little alien a variety of foods. They range from healthy to junk food which both satisfy the alien's hunger. To make feeding most enjoyable while considering health, balance healthy with junk food until the alien is satisfied.

For the Health stat, click on the Soap. This will take you to the bathroom where you can focus on the alien's hygiene. This involves four main steps: Soap, wash, dry, and brush. Click the soap and drag it all over the alien's body until covered in bubbles. Then, grab the showerhead and wash off all the bubbles. Next, grab the towel and dry off the alien. Lastly, grab the toothbrush to clean the alien's mouth.

For the Happiness stat, there are three things you can do. By clicking on the Closet, you can go to the dressing room to give the alien new accessories and clothing. If you click on the doors in the top left corner, you'll go outside to the garden where you can water the plants, and the alien can play with his buddy, a football, and receive snacks. Finally, you can click on the controller in the top right corner to visit the game screen to play mini-games with the alien.
Tips and Tricks
Pou is not a super demanding creature which means that you can take your time trying out everything and seeing how they respond. Just make sure to watch the stat meters so you can address them the minute one drops too low. Also, check the Closet to see if new clothes have been unlocked from growth.

Pou Mini-Games
From the games screen, there are five different mini-games to start with that you can play with the alien. Don't worry about losing as you can always try again.
Hill Drive - Use the arrow keys to speed up and slow down a car over a bumpy road.
Sky Hop - Use the arrow keys to jump up floating platforms, but avoid clouds.
Water Hop - Use the arrow keys to hop across floating platforms across the water.
Jet Pou - Use the arrow keys to guide the alien through a Flappy Bird situation.
Food Drop - Use the arrow keys or mouse to have the alien catch food and avoid junk.
Game Details
Developer: Zakeh Limited
Platforms: Web Browser (PC and mobile), iOS, and Android
Languages: English, Spanish, French, Italian, Dutch, Portuguese, and Polish.
Gameplay Footage
FAQs
Is there a Pou creepypasta?
Strangely enough, the strange little creature has an internet horror story associated with it about how to get rid of it.

Why did the game disappear?
For a period in 2019, Pou was unavailable to play due to a huge update to revamp the game.

Games similar to Pou
Considering that this is about a virtual pet, it can be found in the Kids and Dress Up Games categories on GamePix. Other games to be found are Rainbow Frozen, Snail Bob, Kawaii Chibi Creator, and Makeover Run.
Pou belongs to Kids and it is often associated with Games For Girls and Dress Up Games. This game has received 1375 votes, 1210 positive ones and 165 negative ones and has an average score of 4.3.
It is a game played in portrait and it's playable on Desktop and Mobile on gamepix.com. This game has been published on 2019-12-22, and updated on 2021-11-29.
What are the best online games?