Popsy Princess Jigsaw Puzzles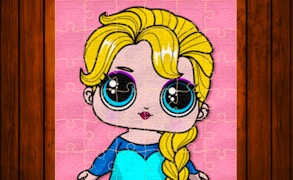 Popsy Princess Jigsaw Puzzles
Begin a magical journey with the enchanting Popsy Princess Jigsaw Puzzles, a delightful addition to your collection of Games for Girls and Games for Kids. This captivating online jigsaw game can be played for free on both your browser and mobile device, keeping the excitement at your fingertips.
Set in a world of breathtaking whimsy, this game invites you to partake in the adventures of the fearless Popsy Princess. Each piece of the jigsaw puzzle unlocks a new chapter in her exciting quest, immersing players in an enthralling narrative that makes this more than just another one of those ordinary Princess Games.
The Popsy Princess Jigsaw Puzzle is brilliantly designed, with each puzzle featuring brightly colored, eye-catching graphics that will captivate both girls and boys alike. The pieces are extra large and uniquely shaped, providing an engaging and easy-to-handle experience even for smaller hands - ensuring that everyone shares in the fun.
The versatility of Popsy Princess Jigsaw Puzzle seamlessly combines entertainment with cognitive development - allowing children to sharpen their problem-solving and spatial skills as they arrange each piece to reveal an enchanting image.
This is not just another online jigsaw game; it's a magical journey waiting to be explored - making it the perfect pick for your next gaming adventure. Free to play, easy to handle, and packed full with heart-racing moments, Popsy Princess Jigsaw Puzzle guarantees endless fun for kids who love challenges and magical tales.
Come join Popsy Princess on her dazzling adventure, solve intriguing puzzles along the way, and come back for more excitement than any other online jigsaw game can offer. It's a magical world out there - are you ready?
What are the best online games?