Popsy Princess Delicious Fashion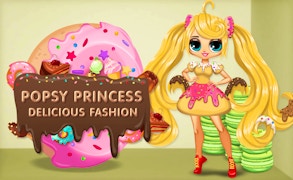 Popsy Princess Delicious Fashion
Description
In Popsy Princess Delicious Fashion, your task is to help the Popsy-Princess craft fashion looks inspired by their favorite foods. Navigate between eye-snatching makeup, trendy hairstyles, charming dresses, and adorable shoes to create a look that's both fashionable and mouth-watering. Whether it's the fresh hues of fruits or the vibrant colors of sushi, turn your fashion taste into a tasty treat!
How to play
Playing this game is smooth and simple. All you need is your mouse or finger if you're on mobile. Click or tap on the different categories, from makeup to shoes, and select the items you want to use. Your progress in the game depends on how many different outfits you can create - so let your imagination run wild!
Tips and Tricks
To shine in this game, don't be afraid to experiment with bold colors and creative combos. Mix and match various options for different categories to see what works best together. Pay attention to the theme: if it's sushi-based outfits, pick more sophisticated styles.
Features
Fashion-forward: The game features an array of stylish clothes, makeup options, hairstyles, and accessories.
User-friendly interface: Easy-to-use controls make this game accessible for all ages.
Creative freedom: With no fixed patterns or rules, this game lets you express yourself creatively.
Vibrant graphics: The colorful design keeps players immersed in the creative process.
What are the best online games?