Popcorn Master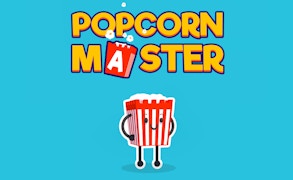 Popcorn Master
Description
Experience an ASMR journey with Popcorn Master, an arcade clicker game designed to soothe your senses. Set in an engaging popcorn machine environment, your objective is to pop as many popcorn kernels as possible, advancing through different levels. Attention is essential as shooting the kernels leads to a brilliant display of bursting popcorns. Feel the satisfaction as you hear each kernel pop and see it transform into popcorn.
How to play
Your main control in Popcorn Master is clicking or tapping on the screen. Aim and click on the kernels to shoot them, causing them to burst into perfectly popped popcorn. Each level requires a certain number of popped kernels before you proceed to the next level. The game's progress depends on your efficiency in popping these kernels and achieving the level goals.
Tips and Tricks
The key strategy for this game is timing. Be patient and time your clicks perfectly to ensure maximum kernel pops per shot. Pay attention to patterns and sequences for optimized gameplay, and avoid wasting shots. Remember, each missed shot will delay your progress.
Features
Casual Puzzle Gameplay: Offers a relaxing break with its straightforward mechanics while challenging your timing skills.
Addictive ASMR Sounds: The popping sound of each kernel enhances the soothing gameplay experience.
Metric Progression: Track your improvement by watching your score increase with each successful pop!
User-Friendly Interface: Easy clicking controls for uncomplicated gaming sessions.
What are the best online games?