Pop it Master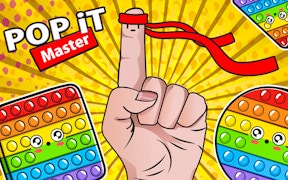 Pop it Master
Unveil the antistress sensation in the world of arcade games, the enthralling Pop it Master. If you're a fan of boredom-busters, then this addictive game will keep your fingers busy and stress at bay. Whether you are a veteran of clicker games, or dipping your toes into hyper-casual waters for the first time, Pop it Master guarantees hours of delightful tapping.
With a whopping collection of 140 Pop It and Simple Dimple toys to collect in this tap game, every play gives you a chance to step closer to completing your collection. After a long day at work or school, lose yourself in the simple, yet captivating world of popping dimples. This is more than just an addictive game - it's an oasis of relaxation in our hyper connected world.
The beauty of Pop it Master lies in its simplicity; no complex control schemes or elaborate storylines - just pure, undiluted fun. Its vibrant graphics and satisfying pop sounds make each tap feel rewarding, further enhancing the overall gaming experience. As one of the best Hyper Casual Games, Pop it Master exemplifies that sometimes less really is more.
If you are looking for an escape into relaxation or simply seeking an enjoyable way to pass some time, Pop it Master is your ticket to fun and tranquility. The captivating charm of its Addictive Games tag isn't lost on gamers who keep coming back for more pops and collections. Leave your regular gaming woes behind and immerse yourself in the land where only two things matter – pop and collect!
The bounty to be claimed within this relaxing arcade game awaits those ready for addictive gameplay with one simple instruction: Tap away!
What are the best online games?