Pop it Infinity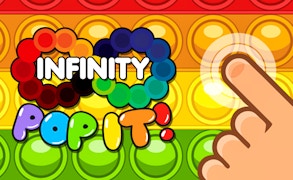 Pop it Infinity
Description
In Pop It Infinity, you are presented with all sorts of delightful trinkets to interact with! The objective is to pop all the gadgets on the screen, with over 160 unique designs to keep you engaged. This casual game offers a serene experience, designed to provide a stress-free environment for players of all ages. Experience hours of fun popping to your heart's delight!
How to Play
To play the game, simply tap on the on-screen gadgets. You have to be vigilant and fast in popping everything on the screen. Each successful tap clears part of the board, and your goal is to empty it completely. This game's progression is based solely on your speed and accuracy – there are no levels or points system.
Tips and Tricks
Playing this game requires keen observation and quick reflexes. Always keep an eye out for remaining gadgets that may be hidden amongst the cleared items. Remember, you're working against time so tap as fast as you can without missing any pops!
Features
Vast Variety: With over 160 unique designs, there's always something new.
Casual Gameplay: No levels or points, just pure popping fun.
All Ages: Easy mechanics make it suitable for everyone.
Relaxing: The gameplay offers a great stress reliever for anyone who needs a break.
What are the best online games?