Pop It! Duel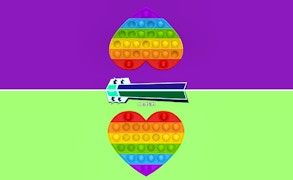 Pop It! Duel
Awaken your inner competitor and prepare for a breathtaking, thumb-busting adventure with the innovative Pop It! Duel. This revolutionary addition to the world of arcade games is sure to delight fans of clicker games, tap games, and Hyper Casual Games. Dive into this adrenaline-soaked arena where agility and strategy reign supreme.
Pop It! Duel, part of the up-and-coming genre of 2 player games, takes the internet's latest tactile sensation, Pop It, and transforms it into an online duel that will keep you on edge. Imagine a classic game of whack-a-mole merged with modern bubble wrap simulator – except this time, you aren't just competing against time but a real opponent.
The magic lies in its simplicity. The mechanics are easy to grasp but hard to master - a common trait among top-notch tap games. Each bubble popped brings you a step closer to victory. Remember, speed matters; but so does precision. In this dynamic world of clicker games, one bad move could cost you your win.
In the realm of Hyper Casual Games, Pop It! Duel stands alone in its thrilling blend of strategy and pace. Whether you're killing time or seeking a high-stakes competition, this game truly captures the excitement and challenge that come with each click.
To all arcade enthusiasts searching for captivating 2 player games, Pop It! Duel is worth every tap. The game invites you to experience the nostalgic feeling of popping bubbles digitally while adding a fresh twist with its competitive element. Grab a friend or meet new ones online – it's time for an epic popping showdown!
Your fingers are your weapon in this sensational game. Are you ready to pop into action?
What are the best online games?