PongColor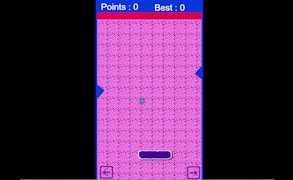 PongColor
Welcome to the electrifying world of PongColor, a sensational twist on the classic ping pong game that has spiraled into the universe of arcade ball-games. This vibrant, skill-based gaming spectacle takes an innovative leap, presenting an array of pulsating obstacles and multicolored effects that intelligently ramp up the difficulty scale, guaranteeing an adrenaline-infused gaming experience.
PongColor is designed to test your mettle as you navigate your way around obstacles. Your ping pong skills are on trial in this merciless world of arcade challenges. Think fast, react faster! There's no time to pause and ponder; only swift reflexes and precision maneuvers can keep you afloat in this sea of swirling colors and relentless barriers.
The brilliant fusion of pixelated artistry and contemporary mechanics gives PongColor an infectious charm, making it an absolute standout in the roster of next-gen ball-games. Here is an ode to the charismatic simplicity that defines classic arcade games while dishing out fresh challenges for today's savvy gamer.
If you've been yearning for a spirited spin on traditional skill-games, PongColor's enthralling gameplay offers just that and much more. It is not just a game; it's a testing ground for your reflexes.
All things considered, PongColor provides an exhilarating blend of old-school gaming nostalgia with modern-day elements. From its dazzling aesthetics to its mind-bending gameplay, everything about PongColor screams pure fun. It's high time to tap into your agile instincts and surge through this riotous roller-coaster ride!
What are the best online games?
Tags