Polygon Village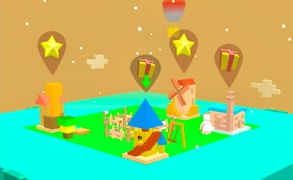 Polygon Village
As a haven for strategy game enthusiasts and ambitious architects alike, Polygon Village truly stands out in the realm of city building games, blending creativity with strategy in an Open World format. Each structure in your city possesses unique attributes, ingeniously hooking players into the ever-evolving dynamics of their pixelated dominion.
Apart from being just another addition to building games, Polygon Village shines as one of the most innovative examples of pixel games. The 3D graphics, although simple, make for a visually rewarding experience. As an architect in this blocky realm, you'll enjoy watching your bustling city come to life, one building at a time.
This game elegantly crosses over into the genre of animal games. You are not merely erecting structures; you will find yourself as a guardian to various pixelated fauna inhabiting your city. It's rare to find a game that can seamlessly merge such diverse genres intuitively.
The game efficiently incorporates aspects of Management Games and Clicker Games. As the mayor, managing your fast-growing population becomes an addictive task. Ensuring that your citizens are well catered to while keeping your resources balanced provides just the right dose of challenge integral to Management Games.
Its incorporation of elements from clicker games makes every click meaningful and influential in shaping your digital metropolis. With each click, help your village transition from a humble hamlet to a bustling metropolis.
In conclusion, Polygon Village offers an immersive experience for those seeking an imaginative take on city builders while catering to fans of pixel games and animal games. If you're looking for a fresh perspective on open-world gaming with elements of strategy and management, Polygon Village is well worth exploring.
What are the best online games?