Poly Bridge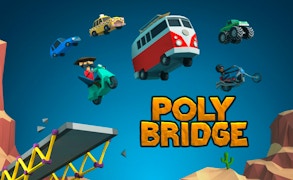 Poly Bridge
A good way to structure a puzzle game is to link to something a person would encounter in everyday life and that's what Poly Bridge does. This concise puzzle game challenges you to build functional and stable bridges over a variety of gaps. It's a 2D affair where you're tasked to come up with a solution based on the information you see and the resources you have. There's no telling whether your design works until after you test it out. If you mess up, you can try as many times as you want and then aim to get a better score on top of success.
About Poly Bridge
Physics and polygonal style games are popular for a reason and this game tries to take advantage of that. While not as amusing as a game like Happy Wheels, there's still satisfaction to be had as you play the role of an unseen engineer. As long as you have the backing, you can make your bridges as elaborate as you want for your own entertainment. The vehicle you're ferrying doesn't seem to be in a hurry so run it through your test bridges as much as you want and you might end up with a structure that works.
>How to Play
Poly Bridge is controlled entirely with the mouse and a UI screen. The game menu icons are in the bottom left corner of the screen while the gameplay icons are on the right side and top left. Your remaining money for building bridges is tracked in the top right corner and you want to spend as little of it as possible to get the highest rating (three stars).
Gameplay Icons
Line - Creates a line from a node (max length of one 5x5 square)
Delete - Destroy a select line
Undo - Retract your last move
Reset - Resets the puzzle
Play - Finalizes the bridge and starts the vehicle
The goal of each puzzle is to build a bridge that is strong enough to support the vehicle on the left side of the screen. To succeed and unlock the next puzzle, the vehicle needs to safely cross your bridge.
Tips and Tricks
Since this is a physics-based game you should apply some real-world thinking. Consider all the bridges you've seen and how they're structured when facing these puzzles. The size of the vehicle also plays a huge role so carefully plan around it.
Game Details
Platforms: Web Browser (PC and mobile), iOS and Android
Languages: English
Gameplay Trailer
FAQs
Is Poly Bridge free?
Yes, this version of the game is free-to-play. There are other versions on platforms like Steam which are paid.
Are the sequels worth it?
This game is part of a huge series that has received a large number of positive reviews so if you enjoy this game, it may be worth your time to check out the rest of the series.
Games similar to Poly Bridge
Due to the physics in this game, it can be found in the Puzzle Games category of GamePix. This will give you titles like Cut the Rope, Overloaded Bus, and Little Alchemy 2.
What are the best online games?