Little Alchemy 2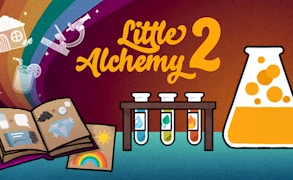 Little Alchemy 2
Alchemy has gained a reputation for being a magical process that can be practiced in reality if you know what you're doing like in Little Alchemy 2. While the science and process behind it can be quite complex, this game streamlines the process with some updated graphics and greater expansion. As an unknown alchemist, you have a blank canvas to work with and elements from the earth to combine and move around as you will. Just be careful with what you discover as some creations will obviously be more dangerous than others. What will you be able to create with such power?
About Little Alchemy 2
The least we can expect from a sequel is more gameplay and a nicer appearance. This game has definitely pulled that off while keeping the core of the game familiar. It takes the idea of alchemy and makes it into a little enjoyable activity about experimenting with natural elements. There's no stress as you play and it becomes more of a puzzle game as you try to think of all the combinations that you haven't tried. Then, it's up to you to apply what you know to the game to try and come up with new elements and new items to use in your experiments.
How to Play
Little Alchemy 2 is a 2D puzzle game controlled with the mouse. You can navigate the game screen with the cursor and click to interact with the UI on the left side. To move elements around, you can click and drag them from the right side to the empty space in the center. You can remove any unwanted elements by dragging them offscreen or get rid of all of them by clicking on the Clean Up icon on the left.

The goal of the game is to fill your Encyclopedia with all 720 entries by coming up with every possible element combination that you can. To combine elements, simply drag one on top of each other. If the combination is successful, the elements will disappear to form an entirely near element. If it fails, the elements will simply shake and reject each other. All of the elements that you've created will appear in your selection on the right side. You can also keep track of them in the Encyclopedia.
Tips and Tricks
In many ways, this is a science game which means that you may want to brush up on your knowledge about elements and the natural world. It's best to keep one of each currently available element in the empty space for experimentation. A good rule of thumb is to always start by combining new elements with one of the four starters: Air, Earth, Fire, and Water.

Game Details
Developer: Jakob Koziol
Platforms: Web Browser (PC and mobile), iOS, and Android
Languages: English

Gameplay Footage
FAQs
How old is Little Alchemy 2?
As the sequel to Little Alchemy, this game is more recent but has still been around for a decent amount of time, having been released in August 2017.
How complex are the combinations?
Since there are over 700 entries in the Encyclopedia, Little Alchemy 2 covers a lot of different creations. One of the most sought-after is being able to create a human.
Games similar to Little Alchemy 2
With this type of style and subject matter, the game is sorted into the Puzzle and Educational Games on GamePix. Other titles in those sections are Monster Go, God of Light, Doodle God, and the original Little Alchemy.
What are the best online games?