Point to Point Happy Animals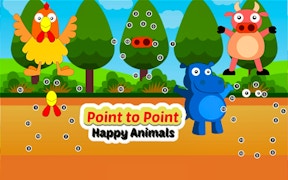 Point to Point Happy Animals
If you're in search of a delightful blend of educational games and fun-filled animal adventures, then allow me to introduce you to the charming world of Point to Point Happy Animals. In this whimsical realm of learning, kids become artists, engineers, and explorers all at once, immersing themselves in a unique blend of number games, animal games, and enriching educational content.
Much like a treasure hunt, Point to Point Happy Animals, one of the best Games for Kids, invites children to join an exciting voyage through a jungle filled with happy lions, mischievous rabbits, towering giraffes and more. With a pencil as their compass and numbers as their guideposts, they'll connect the dots in order from 1 to 10, revealing cute and friendly animals hiding behind sketches waiting to be discovered.
This game cleverly incorporates elements of drawing games into its gameplay mechanics. Each animal comes alive through your child's hand movements as they journey from point-to-point. This pivotal aspect helps develop hand-eye coordination and fine motor skills while inducing an appreciation for art and creativity.
Suitable for ages 3-7, Point to Point Happy Animals serves dual purposes - it is both an exciting escapade into the wilderness and an effective learn-through-play platform. The game's design encourages children's innate curiosity about animals while engaging them in mastering their numbers.
In terms of educational value and fun quotient, this game stands tall. As your child draws each animal with giggles and excitement, they are unknowingly strengthening their knowledge base and learning valuable skills that will carry forward with them into adulthood.
In conclusion, if you're looking for a smart way to combine playtime with learning or hunting for the perfect stepping stone into the world of numbers for your little one – Point to Point Happy Animals is a must-try!
What are the best online games?