Pocket Pool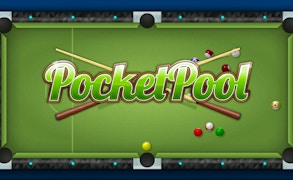 Pocket Pool
Are you a fan of ball games? Do you enjoy the tactical finesse needed in pool games? Well, let me introduce you to a game that combines both elements in a compact, mobile-friendly version – Pocket Pool.
Kicking off with its sleek and user-friendly interface, Pocket Pool brings the spirit of 8 ball pool games right into your pocket. For those individuals who are constantly on-the-go or simply seeking out a quick time-out in-between their routine, this gem of a game ensures the authentic essence of traditional pool is never too far away.
The accuracy and precision required in real-life pool shine through brilliantly within the gameplay. The physics engine gives a realistic feel to each shot, making success dependant on strategic thinking and careful aim. It's not just about striking the balls—it's about reading the table, predicting movements and planning ahead, just like in actual ball games.
What sets Pocket Pool apart from other 8 pool games out there is its accessibility: it's perfect for all levels of players. Whether you're a seasoned gamer familiar with every angle and spin, or just starting to dip your toes into the waters of digital pool games, Pocket Pool welcomes everyone.
To conclude, if you're keen on mastering your skills in pool games, or merely seeking an engaging way to pass some idle minutes away, Pocket Pool is worth a shot! Its seamless blend of realistic movements and ease-of-play make it an attractive pick for all lovers of digital ball games. So go ahead, rack them up and break away with Pocket Pool.
What are the best online games?
Tags